Share the post "#ChangeBrazil : Le vrai faux hack du site de la FIFA !"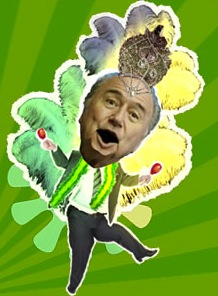 C'est un Sepp Blatter (président FIFA) bardé de plumes et dansant la samba qui accueille les visiteurs du site www.fifa-brazil-2014.com. La courte danse se termine par un appel à diffuser cette revendication "pour une coupe du monde équitable", alors que le Brésil est aux prises avec une très forte contestation sociale liée aux dépenses considérables engendrées par le Mondial 2014.
Leurs revendications :
Pas d'expulsions d'habitants de favelas et de marchands de rues
Pas d'exploitation sur les chantiers
Pas d'exonérations fiscales ou de lois d'exception pour la FIFA
De fait, il ne s'agit pas d'un hack1 mais bien d'un site parodié avec talent et humour. Quelques images :
Log: 23.06 16h30 lancement, 19h30 10'000 partages, 21h30 20'000 partages, 23h30 30'000 partages, 24.06 8h30 160'000 partages, 11h30 180'000 partages, 16h30 230'000 partages, 21h00 270'000 partages, 25.06 11h30 300'000 partages2 !
SOLIDAR (ex-OSEO, Oeuvre Suisse d'Entraide Ouvrière) qui se bat avec résolution pour les droits des travailleurs n'en est pas à sa première pique à l'encontre de la FIFA et de son président. L'organisation avait déjà fait parler d'elle dans le milieu du football lors de la campagne "Hor$ Jeu" (2010) et avait déjà utilisé la figure de Sepp Blatter pour dénoncer le plan brésilien au printemps 2012 dans cette vidéo :
Le site officiel fifa.com est toujours en ligne, l'adresse URL fifa-brazil-2014.com est une copie du site, "gelé" quelques jours auparavant, sur laquelle se superpose le message revendicateur. ↩
Petite pensée émue, j'étais le 27e… ↩
Share the post "#ChangeBrazil : Le vrai faux hack du site de la FIFA !"